Minimalist Dining Table

Minimalist furniture is great in that it requires a lot less materials to build and it creates a modern style. It's also fairly easy to make.
Double X Console
The double X frame console table has a lot of rustic charm and its design makes it easy to build together. Check out how to build one for under $50.
Vintage Desk

If you're looking for a vintage piece of furniture with lots of character, consider building this simple DIY desk. The plans are straightforward and you can achieve all the charm with paint job.
Piping Table

Using pipes in furniture design brings that industrial and rustic element to home decor. The project itself is a bit more complicated but it's very well worth the effort.
Wire Basket Side Table

If you're looking for a really simple and small table, this is a project for you. It doesn't take much effort to build and you get a really unique piece of furniture with a lot of decor interest.
Sofa Table

For that space behind the sofa, you can build an easy DIY table in rustic style. You can even repurpose materials for this project.
Mid-century Nightstand

Add some easy style to your home decor by constructing this mid-century nightstand for your bedroom. Plywood works really well but your can also paint it for a different texture.
Bistro Table

Here's a DIY project for a really cheap small table for your porch or backyard. And it doesn't have to be limited to the use outside – add more interest to your decor by using it inside.
Sofa Arm Rest Side Table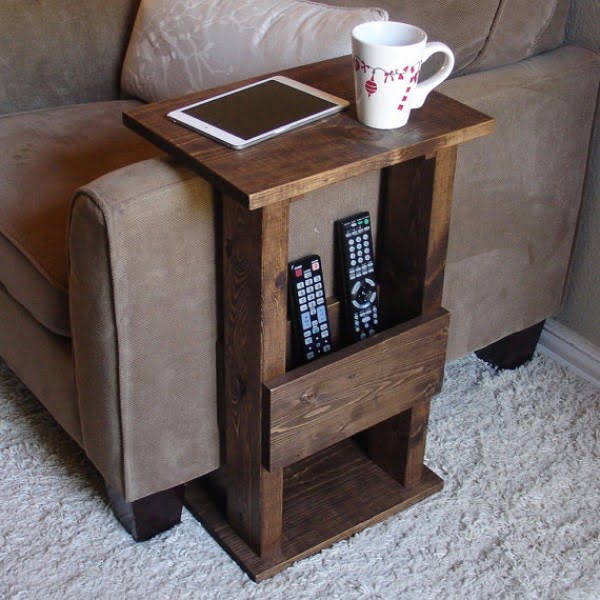 This idea for a side table is as functional as it is visually attractive. Add some rustic accent to your living room with a convenient piece of multi-functional furniture.
Little End Table

Such as small piece of furniture can be so powerful with a lot of rustic style and warmth that it brings to your home decor. It's fairly simple as a DIY project and very useful in small spaces.
Copper Pipe Table
Brilliant designs are often really unexpected. This geometric copper tube table is tied together with nylon zip ties. The structure itself is made sturdy by the network of triangulated shapes. It's obviously an involved project but it's a fun challenge to seasoned crafters out there.
X Base Table

The X base of this simple wooden table adds some architectural interest to your home decor which is a fun way to decorate. It's a fairly simple project giving a touch of warm rustic style to your decor.
Rustic X End Table

Another brilliant DIY project with plans from Ana White. This table is simply adorable and well worth the effort to build for some more rustic accent in your home decor.